Summary
Sales Navigator has historically been clunky and hard to use
The newly launched features have unlocked new workflows to identify high-value accounts and leads
Sellers can now filter by a set of parameters called "Personas" to find the same types of ICP leads across industries, geographies, and accounts
Account-based sales is much easier with the new Relationship Explorer filter, which highlights high-priority leads
There's still improvements needed for integrating this data into existing sales automation
The challenge of data validity
I was in a meeting with a cross-functional team of marketers and sellers this week. We were exploring how ZoomInfo was incorporated into their targeting and prioritization, and the sales development manager brought up a good point: a big chunk of ZoomInfo's data was out of date.
The last time they plugged the data into their sequencer, they got a bunch of invalid notices and "no longer at this job" messages. That's a problem. But it's also quite the challenge to keep data current and valid for millions of people.
LinkedIn has, in a way, outsourced the hard work by relying on their users to keep their job title and current position up to date. Industry insiders call this "democratizing data." Instead of the platform spending money to keep their data up to date, it relies on its users (the masses) to do it for them.
The problem is... a lot of this data has historically been very difficult to access in a useful way on LinkedIn. Sales Navigator has not been super intuitive & fairly time consuming to use to find actually useful information.
And on top of job data, there was a bunch of activity data the platform gathered: visits to profiles, engaging with company pages, responding to InMails, etc. etc. The irony is LinkedIn only really made this data available to the individual, not the organization. You would know if someone responded to your InMail, but the sales development manager couldn't really measure success across multiple sellers, let alone across multiple different target accounts.
Measuring on-platform activity with Buyer Intent
One new way they're solving this is with Buyer Intent. It measures on-platform activity between accounts. Consider 1upHealth, a software development company. The screenshot below shows that for a client of ours, their buyer intent is high because 1up's employees are actively engaging with the company page and are viewing the profile pages of multiple employees.

That's really useful data in a social selling movement! Compared to the following from Cigna. We can use a tool like LinkedIn Sales Insights to get the specific numbers of InMails, but Sales Navigator at least shows that InMails and Ads are underperforming with employees at Cigna.

Now, a thoughtful RevOps manager or Sales Director with a specific account list can pull this buyer intent data every 30 days for a set target list to understand how well their social selling efforts across sales and marketing are performing. (Unfortunately this is still a manual scrape, there's no API or export feature yet)
You can now get a view of all of your saved accounts in your Account page's Buyer Intent Dashboard to see which accounts have High, Moderate, or Negative intent. If they don't appear, it means they're "Neutral" or have no recorded activity in the last couple of months.
Filtering by personas
Sales Navigator has also made it much easier to find similar people across multiple accounts with Personas. When you create a new persona, you create a preset of filters for: (1) function, (2) seniority, (3) job title, and (4) geography.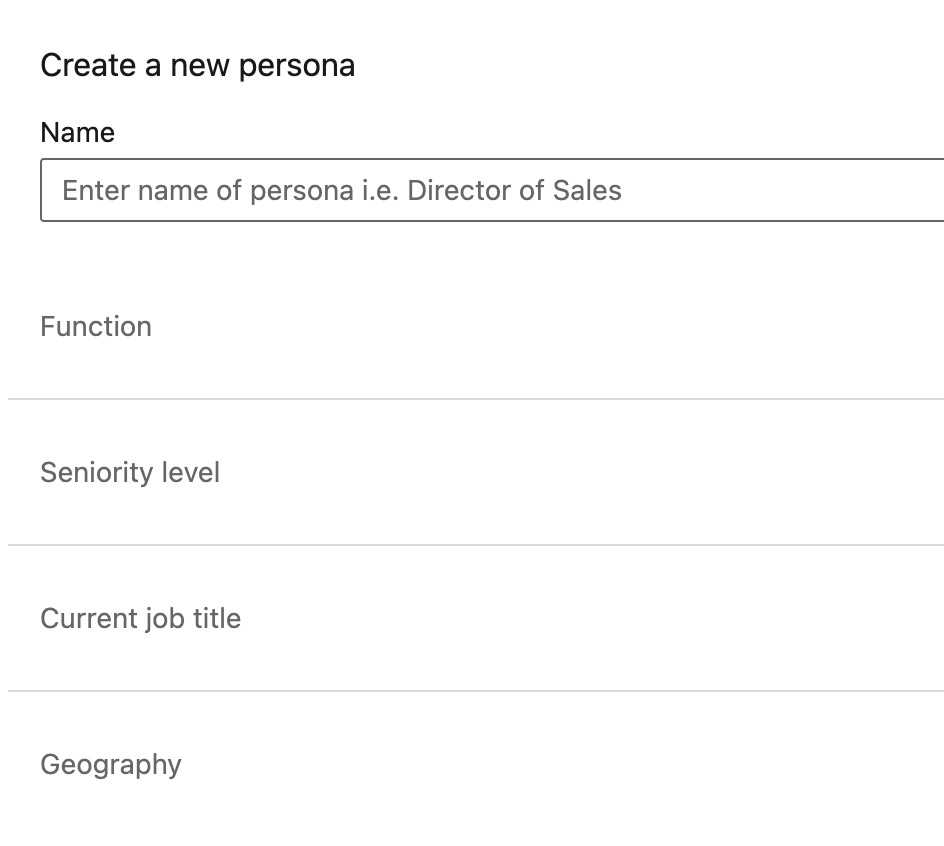 Now I can filter a lead search by a set number of ICP filters. If you know these basic targeting criteria, you can quickly enhance any search within a new account list, new territories, or new industries.
Account snapshots with relationship explorer
The individual account page has also gotten a nice upgrade with Relationship Explorer. Peek the Persona filter in the upper left hand corner and you can easily imagine the value – instead of having to create a manual search with your Persona filter for a specific account, you can do that right inside the account page!

One added bonus are the Spotlight callouts in light blue. Instead of having to manually search leads and select specific Spotlight filters (changing jobs, shared experiences, posted in the last 30 days, and so on) – Sales Navigator has auto-prioritized top leads at the account.
You can use the gray banner up top to filter down that result much further to a specific Spotlight filter. Now you could find high-value Persona leads with two clicks of a mouse instead of twenty!
Example workflows
With these tools at my disposal, here are some scenarios I'm already using these tools for:
Pulling a list every 30 days of "Negative" intent accounts who show Ad Engagement is low. Sent to marketing to revise their ad campaigns on LinkedIn and improve their ad spend.
Creating an account list of "High" intent accounts and then creating a persona filter of ICP targets to build a lead list. This creates a shortlist of ICP leads at accounts who are showing interest in our company.
Creating a Saved Search of Personas at target accounts who viewed my profile in the last 90 days. (This is a huge hack - you can automatically learn if VPs of Sales in N America from your target accounts are viewing your profile, for example)
For account-based sales, I'm using the Relationship Explorer to quickly identify high-value targets at the accounts using a variety of the Spotlight filters, and saving them into a lead list to work.
Final thoughts
All of this data sits inside Sales Navigator. It's still very much a walled garden. Integrating this data into a SEP or your other systems is still very much off the table without a (sometimes quite shadowy) 3rd party tool that scrapes data. That can get you into a whole bunch of trouble.
This is still a solid improvement for sellers everywhere using LinkedIn Sales Navigator for research and targeting.
If you want a live demo of these features and more
, I'm joining James Buckley on the Sell Better show by JB Sales tomorrow Friday March 17th at 12pm EST.
You can register here.
It's free! Come and join in the fun.