The Seller's Guide to LinkedIn
Built from 200+ experiments. For SDRs and AEs who want to use LinkedIn productively.
Let's cut to the chase: most LinkedIn guides are BS for sellers. They tell you how to write better content or how to build a personal brand, but the truth is you've got quota to hit and you wanna figure out how to use LinkedIn to hit it.
Who's got the time to write a bunch of content and pray for results? We didn't. So we built this guide instead.
What you'll find inside:
How to build a knock-out profile so every prospect accepts your connection request
How to actually run outbound on LinkedIn without ever having to send an InMail
How to personalize connection requests so you break through the noise
How to use search to find new prospects and conversations
How to write content that nurtures your prospects without ever needing to build a personal brand
How to use Sales Navigator to structure your accounts, leads, and daily workflows
How to spend 30 minutes a day or less on LinkedIn and still get the most out of the network
How to leverage the PROACTIVE framework in social selling
It's all yours. Lifetime access. When we make updates, you get 'em. (And yes, we're making updates as we speak)
It's time to use LinkedIn for more than just research or doomscrolling. Unlock the proven method to booking meetings & building pipeline inside The Seller's Guide to LinkedIn.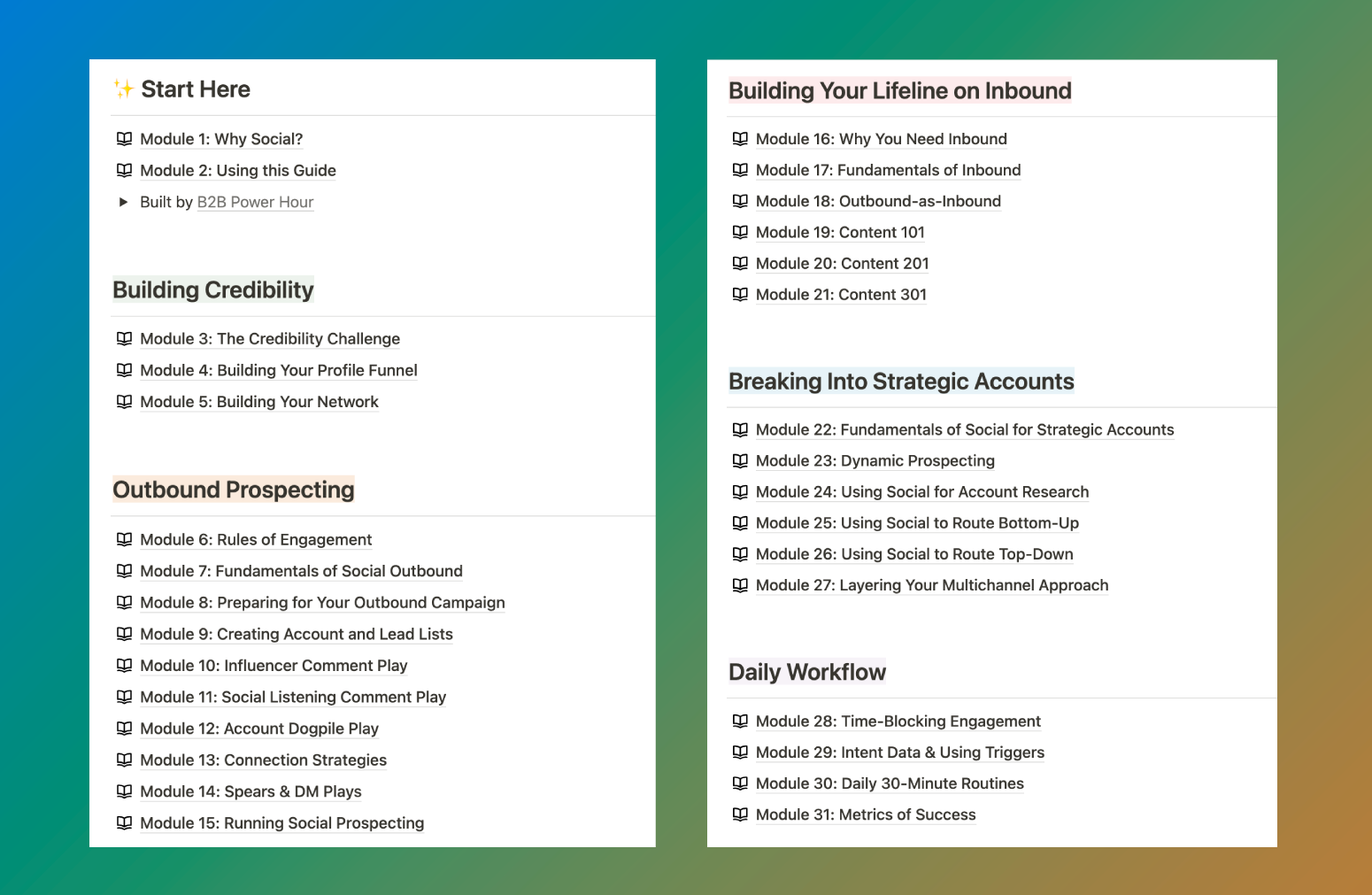 "Why aren't you charging $5,000 for this?"
- Jen Allen, Community @ Lavender
What's Inside?
Module 1: Why Social? Why social is the greatest asset in the seller's toolbelt in 2023.
Module 2: Using this Guide. How to use the Seller's Guide (hint: like a well-worn book).
Module 3: The Credibility Challenge. How to overcome the greatest challenge to the individual seller on LinkedIn.
Module 4: Building Your Profile Funnel. How to create the world's greatest profile in 7 short steps.
Module 5: Building Your Network. Identifying your three buckets of influence.
Module 6: Rules of Engagement. The fundamental rules of social selling when you're running outbound campaigns.
Module 7: Fundamentals of Social Outbound. How outbound works on LinkedIn with our tried-and-tested methods.
Module 8: Preparing for Your Outbound Campaign. The necessary ingredients before you go prospecting.
Module 9: Creating Account and Lead Lists. How to use Sales Navigator to organize your outbound prospecting.
Module 10: Influencer Comment Play. How to leverage influencer's to get in front of ICP leads.
Module 11: Social Listening Comment Play. How to use search to get in front of ICP leads.
Module 12: Account Dogpile Play. How to use FOMO to break into an account.
Module 13: Connection Strategies. The when, where, how, and why of sending a connection request.
Module 14: Spears & DM Plays. How to personalize a connection request and start a conversation with a prospect.
Module 15: Running Social Prospecting. Our cheat sheet for running outbound.
Module 16: Why You Need Inbound. How to create a long-term lifeline of inbound leads to your profile.
Module 17: Fundamentals of Inbound. How inbound works on LinkedIn with our tried-and-tested methods.
Module 18: Outbound-as-Inbound. How to make outbound prospecting drive inbound leads on LinkedIn.
Module 19: Content 101. How to get started writing content that matters.
Module 20: Content 201. How to write content that nurtures and educates prospects.
Module 21: Content 301. How to build a unique POV that resonates with prospects.
Module 22: Fundamentals of Social for Strategic Accounts. How enterprise prospecting works on LinkedIn with our tried-and-tested methods.
Module 23: Dynamic Prospecting. How to use Sales Navigator and other data sources to automate your approach.
Module 24: Using Social for Account Research. How to research the account and the buying committee using LinkedIn.
Module 25: Using Social to Route Bottom-Up. How to break into an account on LinkedIn routing from below the power line.
Module 26: Using Social to Route Top-Down. How to break into an account on LinkedIn routing from above the power line.
Module 27: Layering Your Multichannel Approach. How to use other channels to layer on top of your LinkedIn strategy.
Module 28: Time-Blocking Engagement. How to structure your day to use LinkedIn productively.
Module 29: Intent Data & Using Triggers. How to identify when to reach out to a prospect using LinkedIn's native intent data.
Module 30: Daily 30-Minute Routines. How to structure a 30-minute period to combine all of our outbound and inbound strategies.
Module 31: Metrics of Success. How to measure and predict success for social selling.
Module 32: PROACTIVE. Our time-tested, seller-approved framework for social selling.
This is THE guide to social prospecting. If you read it, there's no chance you miss quota.
- Nate Nasralla, Founder @ Fluint.io
A Short Preview of Our Philosophy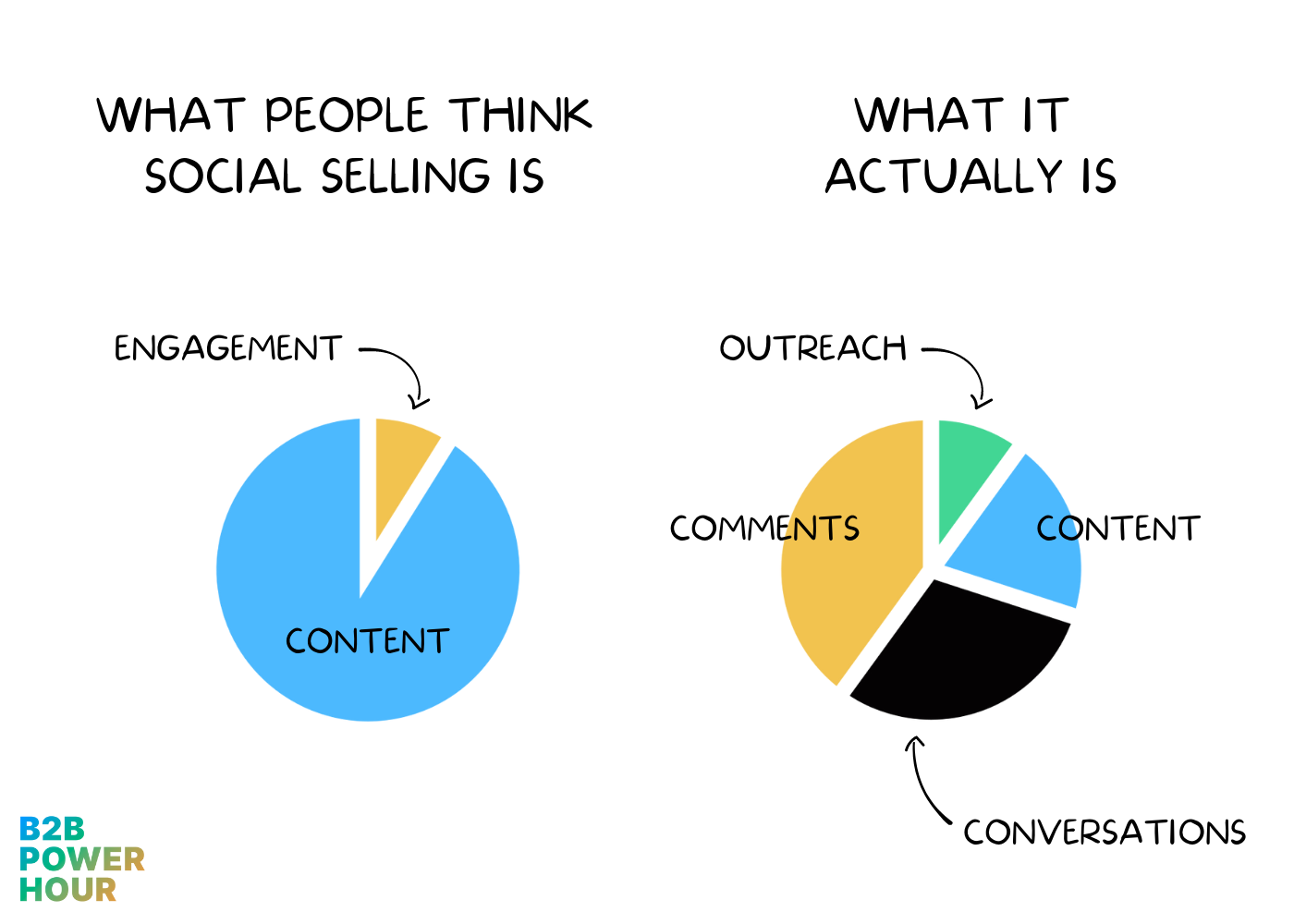 People think social selling has to just be content and engagement. The truth is it's much bigger. LinkedIn is a 24/7 networking platform and it requires every seller to use all the tools in their toolbelt.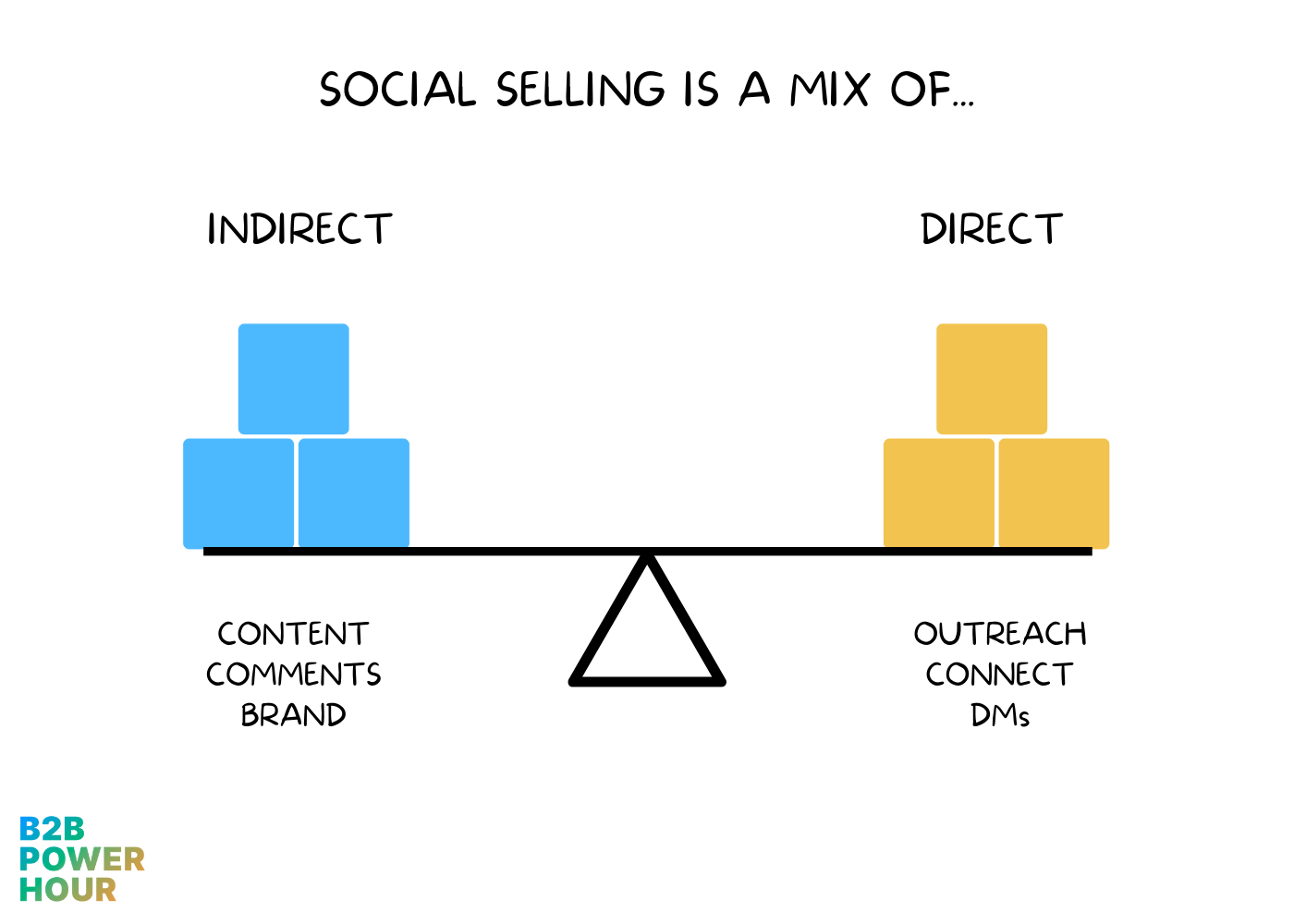 The perfect social selling strategy keeps indirect and direct in perfect balance. Relying too much on direct methods turns off buyers and makes LinkedIn "just another sales channel." Relying too much on indirect methods makes you a content marketer. Nobody has time for that.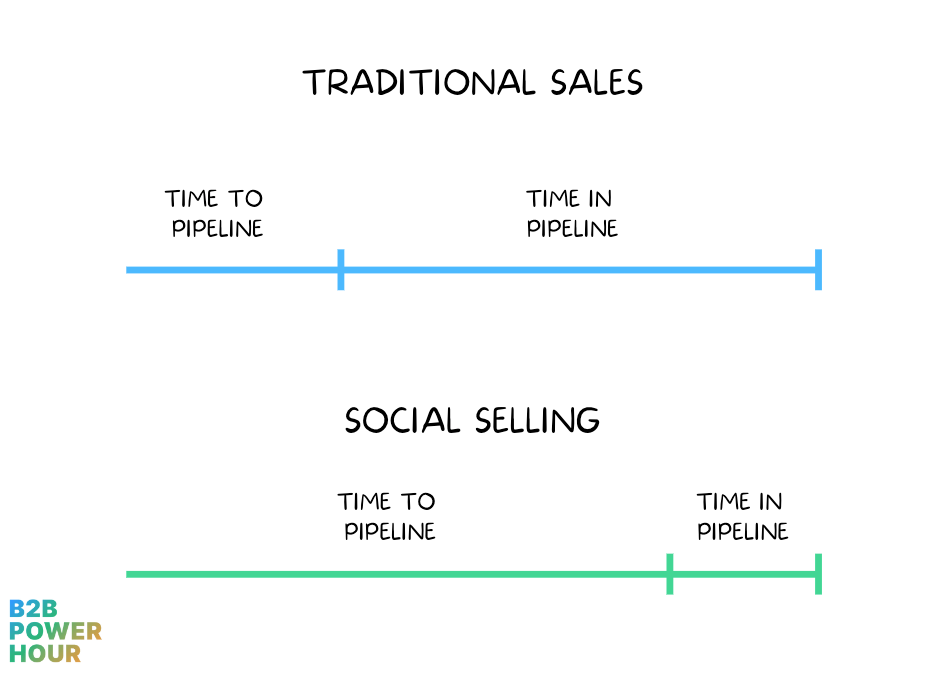 Unlike phone or email, the time to get a deal into pipeline is longer on social. That's because the crucial work of building credibility – on behalf of your company – is done before the deal enters your CRM. The trade-off? Deals close much quicker since buyers already know who you are, what you do, and how you can actually help.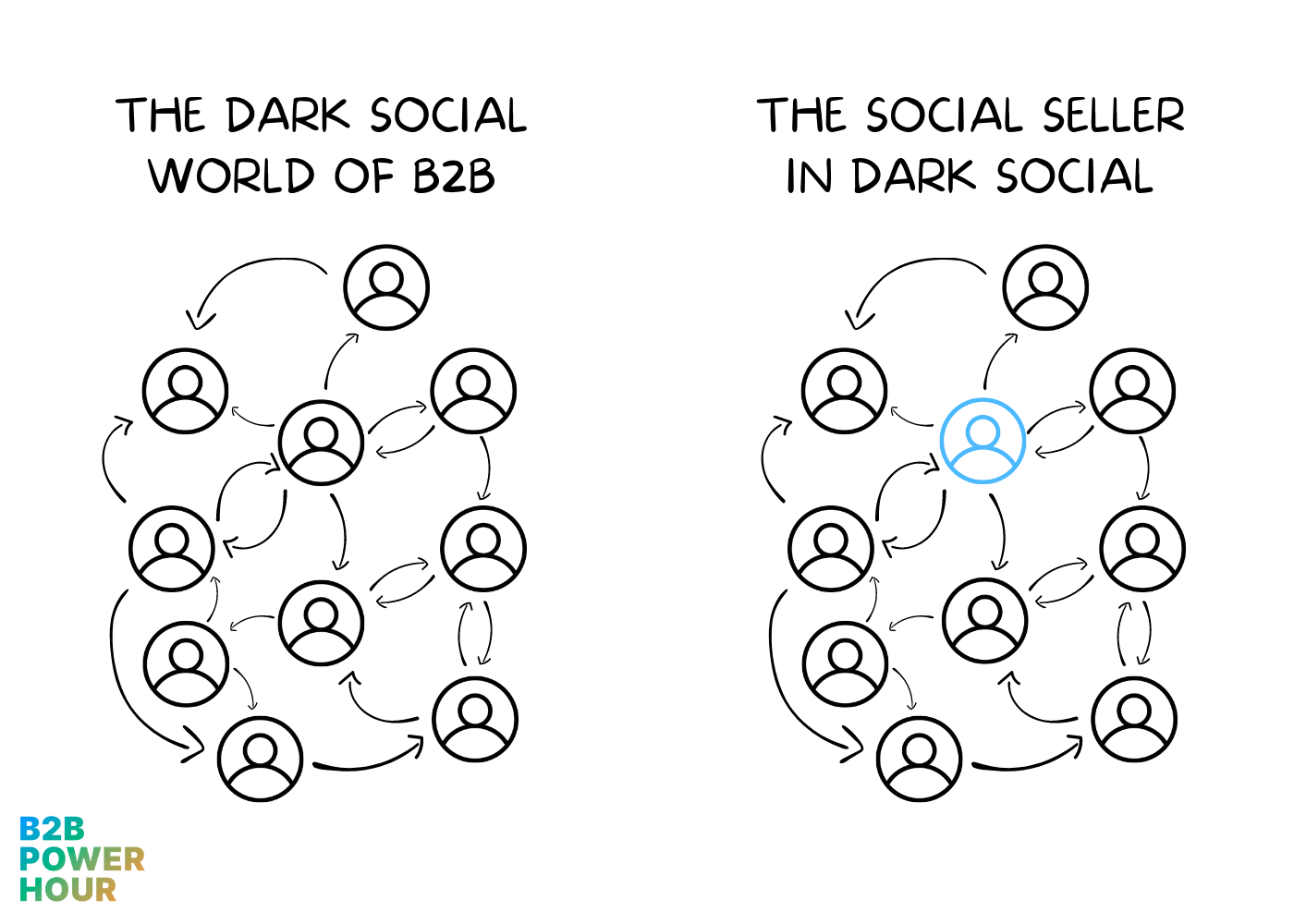 And lastly: in the digital world, buyers buy from their peers. Our job is to equip you with the skills and strategies to reach prospects where they're at without them being turned off by a pitch. That's what this guide is built to do: help you become the ultimate social seller without ever needing a personal brand.
I wish my sales teams had this and I can only recommend you buy it today.
- Leslie Venetz, Founder @ Sales Team Builder
What You Need to Know
From Morgan & Nick
We bought every social selling guide on the market. We tested everything everyone recommended. And most of it was crap.
If you were a content marketer and you had a big budget or a lot of time, maybe it could work for you after 6 months. But not for a seller with the pressure of quota.
But too many LinkedIn guides for sellers was just "pitch, pitch, pitch." In all of our tests, this turned off a lot of buyers and didn't really help anyone.  
We realized that sales needed a different playbook. A playbook that actually helped them connect to prospects and buyers. A strategic guide to help them invest in the right tactics and worry less about the non-essential stuff.
This guide started in Google Docs. It was 42 pages long. It was the distilled essence of everything we knew about how to actually book meetings and build pipeline on LinkedIn.
Since then:
It's now hosted on Notion, instead of in Google Docs.
We've added videos, experiments, and plays we've tested in the field by ourselves and with the SDRs we train & teach
We've estimated the current version of the guide is well over 200 pages worth of content
We added in special modules for becoming an evangelist (only if you want to), breaking into enterprise (only if you have to), and using data for easy-breezy prospecting (you probably should).
And we continue to add to it. It's built for SDRs and AEs who want a different take on LinkedIn then the classic "connect + content" playbook that gets thrown around. Buy it today.
$299
Built for SDRs and AEs who are ready to use LinkedIn productively and crush quota in the process.
🔓 Buy Now